I received a small package from Okinawa that my husband sent me. He is usually not the romantic type but since marrying me, he's been getting better hehe. I convinced him to write letters to me. Emails are nice and phone calls too but there's something about reading a written letter that is sooo utterly romantic to me. Plus I can carry it with me.
He sent our 3-month old son two onesies (size 6 months) that barely fit and a pair of pants. Then since I told him I love Hello Kitty stuff, he found HK notepads and a pen for me. It's so cute because he never knew what Hello Kitty was til now and he was so proud when he found the HK pen!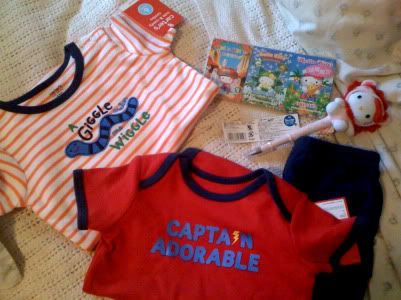 I also went shopping at Sears Essentials, which is a store right down the street from my house. I don't know if I've ever seen one back home in California but in Florida, they're pretty popular. You really have to look around the racks for cute clothes though. I caught these cute HK clothes and had to get them.
1. PJ set: Pink tank top that says "You had me at HELLO" & black cropped sweat pants. These pants are so much more comfy than the Victoria's Secret sweats.
2. Two boyshort panties. I love sleeping in boyshorts!! And they were on sale for only $4.20 each!
I'm currently looking for cute striped knee high socks. I doubt anyone wears them in Florida but I like them anyways! I saw them at wetseal.com. I really like the black ones with the white stripes. Too dorky?