I really HATE the word "haul" so I refuse to use that word on this post.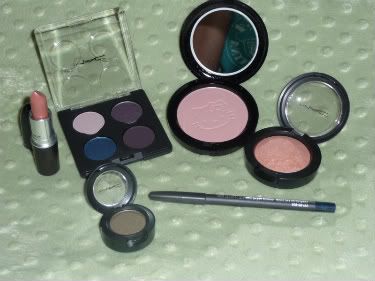 Anyways, since I've moved to Florida, I haven't done anything much to explore my new town. All I really do is take care of my son, go work out and and wait for my husband to call. I did dedicated ONE day to shopping though and that felt AMAZING! While my husband was still here, he took me to Tampa's outlets and the first store I went to was CCO, of course. The CCO's in Florida (and every other state, I'm sure) are sooo much better than the ones in California. What's up with that?
I spent just a little under $100 on these goodies:
1. MAC amplified lipstick in Up Note--a peachy nude color. It reminds me of L'oreal's Colour Riche in Tawny.
2. MAC Shadowy Lady quad--OMG, I'm sooo glad I finally found this. After watching so many makeup tutorials on YouTube with this quad, I searched the CCO stores in South California and Las Vegas. Now I have it :D :D I'm deciding on whether I should go back and get the Tempting quad...
3. MAC Hello Kitty beauty powder in Pretty Baby--This is also hard to find in California so I snatched it right up!
4. MAC MSF Blush in Nuance--I don't know why this is in a CCO already. It's gorgeous. It looks very shimmery but when applied, it's very pretty on. I love the coral color. I like this better than my MSF Petticoat.
5. MAC Pearlglide eyeliner in Fly-by-blu--I haven't tried this but I know it's a really pretty deep blue. I kinda wish I had gotten the purple (Rave) one though.
6. MAC eyeshadow in Mink & Sable (Starflash collection)--Very pretty olive green color. I've been wanting an eyeshadow color like this for awhile and I wish CCO sold pan eyeshadows; it would save me so much time from depotting these eyeshadows!
Well, I definitely plan on going back to get more MAC goodies. I just wish hurrican season was over because I hate driving in the rain. And if you think California rain is bad, you'll hate Florida rain. It's the kind of rain where you can't even see anything on the road. Not even the car in front of you. So of course, being from California, I'm driving half the speed limit and pissing everyone off!! HAHA!
Okay have an awesome week, ladies! XOXO