So ever since I got pregnant, I've been feeling like my face just literally puffed up! And after watching so many fascinating & talented beauty gurus on youtube, I learned the secret of contouring. I was so excited to try these tricks.
I love MAC blushes and I was deciding between Harmony and Blunt since those were the more popular contouring colors (besides Emote, which is no where to be found!). But since I was just learning the tricks of contouring, I decided to get something from the drugstore to start off with. I was browsing all the blushes at CVS Pharmacy (my fave drugstore) and I saw that L'oreal was having a buy one, get one free sale on their face cosmetics. None of the blushes looked like Harmony or Blunt. But I decided to look at the True Match foundation powders and I picked up the darkest one available. It's called Cocoa and it's described as "super-blendable" which was good enough for me. It was about $11. Not bad. It contours beautifully on my NC30 skin! And it's definitely blendable.
Well just this week, I was at MAC picking out blushes and thought to myself, why not just buy Harmony too?? So I bought it and when I was putting it into my blush palette, I thought it looked A LOT like the L'oreal Cocoa powder foundation. They are exactly the same! The only difference was the price and size. The MAC one was $15 and in a smaller pan. The L'oreal one was $11 and in a bigger pan (about 1/3 bigger!) I depotted the L'oreal one and made my own custom palette with non-MAC blushes but it originally came in a compact with a mirror and sponge applicator.
Here are some comparison photos!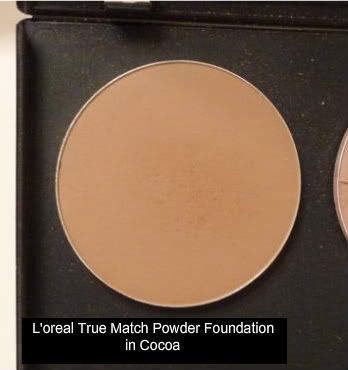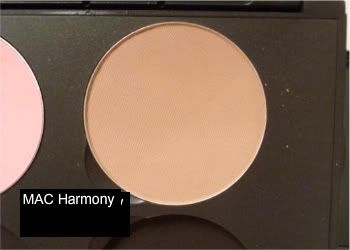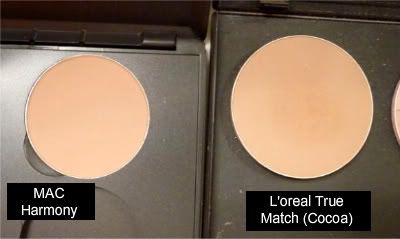 Both of them contour and blend really well! So if you're not sure on getting Harmony, then I highly recommend getting the L'oreal Cocoa one and trying that one out first! Bring it on, puffy preggo cheeks!!
Love,
Josie