Here are a few products that have worked for me AND my budget. Besides MAC, I have always been a fan of Revlon. I find that their foundations work better for my combo/oily skin & since my skin color changes through seasons ( I also go thru phases of tanning), I find it easier on my wallet when I switch foundation colors.
1. Revlon Age Defying Spa Concealer in Light/Medium:
$11; works best on blemishes & scars--I don't recommend this for under-eye circles though. Easily blends onto skin w/ my finger
2. Revlon Colorstay Foundation with Softflex for Combo/Oily Skin in Golden Beige:
$13; works better than MAC foundations on my skin; better color selection; medium-buildable coverage.
3. Revlon Colorstay Mineral Matte Mousse Foundation in Light/Medium:
$14; Best foundation I've ever tried; Blends well, full coverage, matte finish; best applied by fingers.
4. Boots No. 7 Mattifying Make-up Base:
$10 (only at Target); works better for me than primers from MAC, Sephora & Laura Mercier; a little goes a long way; you really have to blend it tinto the skin because it goes on very white.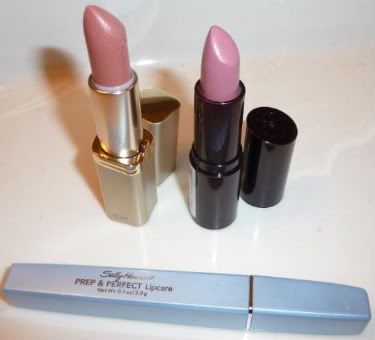 1. L'oreal Colour Riche lipstick in Tawny:
$8; a nice nude/pink color; long-lasting & non-drying formula.
2. Rimmel lipstick in Airy Fairy:
$5; Great everyday pink color; long-lasting, shiny finish & doesn't have the typical lipstick smell
3. Sally Hansen Prep & Perfect Lip Care:
$10; Primer for lips; nuetralizes your own lip color so the true color of the lipstick shows better (I have very pigmented lips); prevents feathering and bleeding of lipstick.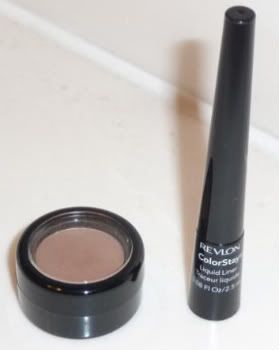 1. Ardell Brow Powder in Taupe
$4; really colors in my eyebrows beautifully; applied with MAC's small angled brush
2. Revlon Colorstay liquid eyeliner in Blackest Black:
$10; goes on in a fine line or thick line depending on pressure; not runny like most liquid liners; no flaking and it lasts all day
3. (not pictured) L'oreal Extra Volume Collagen Mascara in Blackest Black
$8; hands-down the BEST mascara I've ever owned (better than mac, dior, benefit etc); very black; gives lots of length and volume after one coat; reminds me of MAC's plush lash mascara

L'oreal True Match Super-blendable blush in Tender Rose:
$11; looks shimmery in the pic but goes on beatifully; blendable; comparable to MAC's Dame blush or Well Dressed; I depotted it but it comes in a small compact with a brush & mirror