It's kind of late in the month to be doing July favorites (time flies by when you're married with a baby!) but I've always wanted to do these favorite blogs. I see the gurus on YouTube do it all the time and it looks so fun to see what other girls like to use.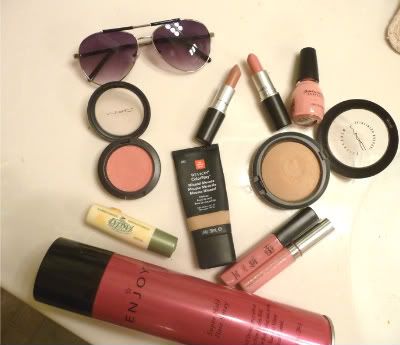 The picture I took doesn't give you a good idea of the colors of these products but trust me, these products are BEAUTIFUL!!!
1. Revlon Colorstay Mineral Mousse Foundation. This is still my fave everyday foundation. I've gotten tanner so I need to update on the color but I used to use Light/Medium. The coverage to medium to full. It goes on matte and I just love how it feels on my face.
2. MAC Mineralize Skin Finish Natural in Medium Plus. This is the perfect powder to set my foundation. The color is great is in between light and medium so I feel like I can wear this in winter and summer. I like just buffing this on my foundation with my kabuki brush.
3. MAC powder blush in Fleur Power. I've been using this color for years and although it seems frighteningly bright in the package, it's very pretty on. Its a coraly pink and perfect for everyday looks.
4. MAC powder blush in Pink Swoon (not shown). I didn't take a pic of this one because it's in my palette, but it's also a great color for all skin tones.
5. Lypsyl lip moisturizer. My cousin introduced me to this chapstick. It's all natural and its such a great lip moisturizer with the cooling effect after application. I have dry lips and most lip conditioner brands (Chapstick, Nivea, MAC, Palmers) don't do the job. THIS ONE DOES. I even use this on my baby's lips and it works wonders! I also love the cute packaging it comes in.
6. NXY Megashine lipgloss in Beige. Very shiny and smells great. The price is great too ($2.50 at this clothing store in San Diego!)
7. Clinique glosswear in Kitten Pink. This has been my favorite for a long time. I don't know where else they sell it except for CCO's. I've tried NARS Turkish Delight and even Neutrogena's Groove, but neither one looked cute on my skintone. This Clinique one is so much better. I use it to add mega shine to my nude/pink lipsticks and my lips look very glossy. No other lipgloss has topped this one!
8. Sinful Colors nailpolish in Beautiful Girl. A cute barbie pink color. I found this at Walgreens for $2.
9. MAC lipsticks in Honeylove & Way to Love. Currently my two favorite MAC lipsticks right now. Way to Love is limited so I'm thinking of buying a few more before they run out! Honeylove is in the matte collection. It's the perfect nude color for me. Kinda drying though.
10. Enjoy Super Hold Hairspray. My favorite brand of haircare. This hairspray adds shine, volume and it smells so good. People think I'm wearing perfume. I wish they sold it in more stores though. I can only find this at professional salons.
11. Aldo aviators. I know this isn't a beauty product but I just love aviators right now. I got mine at Aldo (on sale for buy 2 for $20) and I can't leave the house without them!
What are your summer favorite beauty products?